Finished the Shipwreck Shawl in 10 days. Not so sure about the outcome, but it was pleasant to make.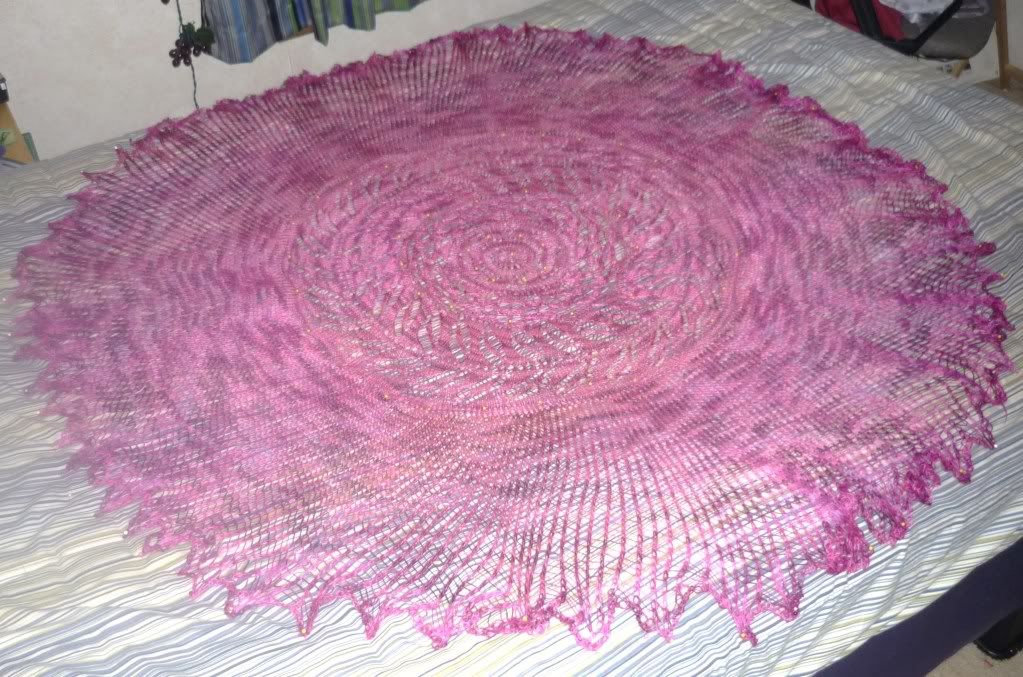 Pattern:
Shipwreck Shawl
by Knitting Harpy
Yarn:
Premiere Yarns Festival Mix Fiber (also known as... whatever the hell the factory had left) 3 skeins of what I suspect was some kind of wool fingering weight yarn with 359 yards per skein
Modifications
: Knitted the entire center section with US#3s instead of US#4s, then as the outside grew I used US#6, US#8, US#10.5, and US#13. For the last section of the outside I only did about 5 rows instead of 14 before binding off.
The inside circle pattern doesn't pop out as much as everyone else's does. At first I thought it was because I used variegated yarn, but I've seen a lot of variegated yarn examples on Ravelry that still show up. Maybe once I get it framed against a white wall in the new apartment (I intend to use this as an art piece, now a shawl) it'll look fancier.
I've had a thing for lace shawls lately, but since I never wear them, I'm taking a break to knit up a
Four Seasons Vine Lace Vest
, a free pattern from a Classic Elite Yarns Webletter. Using an angora/lambswool mix I recycled from a thrift store sweater and dyed over with Kool-Aid.
I like it, so far, and might even get to wear it since winters here only call for so many days of full-on sweaters. A wool vest is the perfect warmth and easy to take off when I get inside for class.
Speaking of life outside knitting... we move in two weeks! My mother and I managed to fit my grandmother's cedar chest she got for her married life into the car on the way home from Michigan this summer, and when we move I'm sticking it in the craft room to store my fabric and such.
My 20th birthday is this Wednesday, and my mom hinted that she and her boyfriend found something special for my craft room when they went antiquing. So that something will also be there once we move in.
And since I have a day and a half left of being a teenager... I guess I need to think of something stereotypically angsty to do tomorrow.