The Harry Potter books came out when I was in 3rd grade, so I was one of the original kids waiting for my owl to come with my Hogwarts letter. Such disappointment.
Tonight I'm seeing the seventh movie at 12:20 a.m., and my friend requested a scarf. Unfortunately I only had two days to work on this, and while I knitted and knitted and knitted... it was driving me crazy and it's nowhere near as long as a proper scarf should be. But this is Florida and we don't take our scarves too seriously, so a 52" scarf is perfectly acceptable.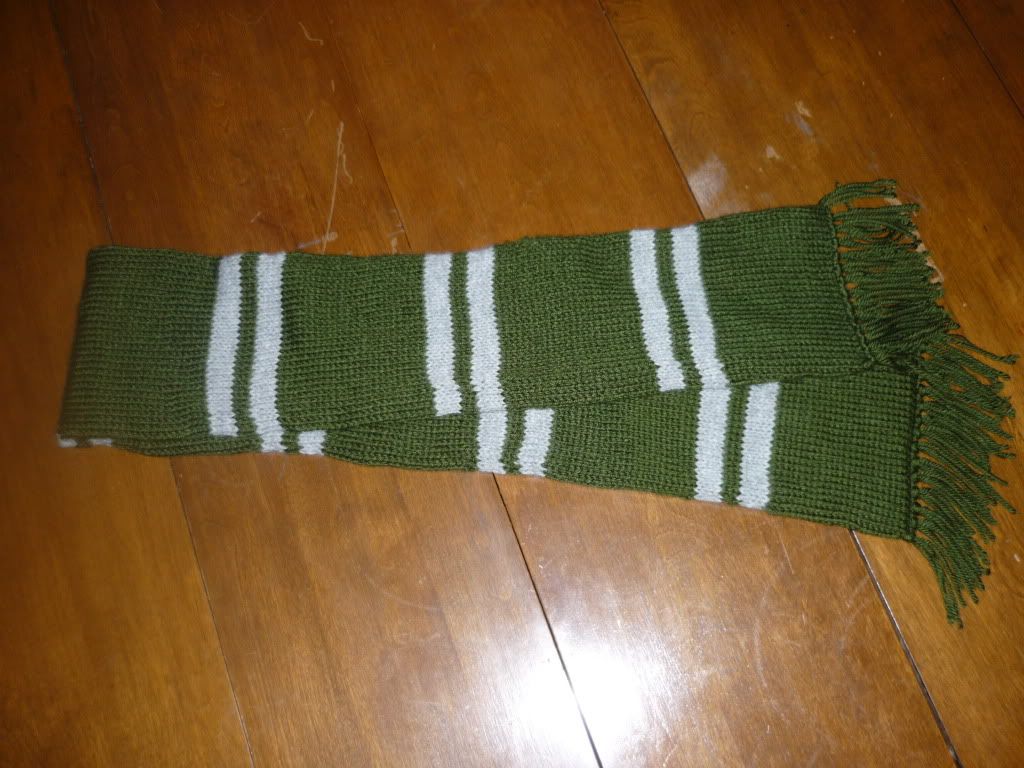 I prefer Ravenclaw... but Slytherin is definitely better than high school when a Hufflepuff scarf was requested and I walked around crocheting a scarf everyone presumed to be for a bumblebee. Of course... now those are pretty much my school colors (ahem... gold, not yellow).
And this is the progress I've made on my Tappan Zee Cardigan:
I'm on row 7 of the first diamond pattern. Now a whole lot to show, but I've had two presentations for school, the above scarf, and lots of reading for the last few pop quizzes of the semester to undergo this week.
About a week ago I got an e-mail from the Criminal Justice department at my school talking about a study abroad opportunity to Russia this coming summer. And I think I might pursue it. It's two weeks, a few days in Moscow and most of the time in Volgograd/Stalingrad. Unfortunately it carries a $3500 price tag. I'm advertising to my friends and others around me that I'll make scarves, beanies, and sewn purses in an attempt to make money for this trip.
Realistically I'm not sure if I can make that on the side, considering most of my money right now is going straight to rent and utilities. My father has offered to help, but that kind of offer has come in the past and usually ends up pretty fruitless so I can't rely on that. The first payment is due the end of January, so I don't have much time to make up my mind so I can save up.
Kind of unsure whether I want to go or not. I want to go, but I've never traveled anywhere without someone I know with me (this trip is about 20 students and some faculty, no one I have met yet). I'm not sure how hectic it would be.